Accommodation: Appartamenti in Villa near Siena in Toscana, Siena
---
Accommodation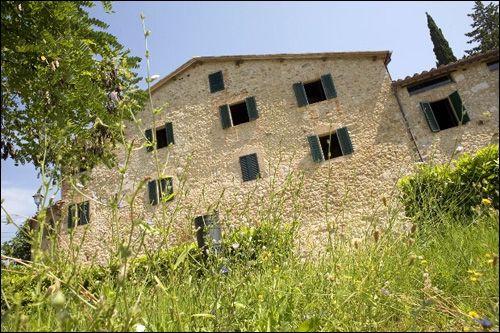 Picture gallery
You're seeking exceptional beauty and charm off the beaten track, far from the hordes of tourists, yet accessible. You're dreaming of the privacy of your very own Renaissance villa yet at the same time the convivial charm of a genuine Tuscan village, peace and quiet but not total isolation.
You relish the idea of wading into an emerald green gentle river in the secluded countryside and meet up in the evening with friends and family on your very own terrace a wine glass of luscious Tuscan wine in hand. If this is your idea of a real holiday, of replenishing mind and soul, believe in high quality, ecological tourism, seek no more, you have arrived at the right address.
Services: - Cleaning before you arrive and after you leave - Water, electricity, gas for the kitchen - Bedding, towels changed weekly - Private safe in each room - Large screen TV in the shared area - Washing machine - Free use of bicycles - Nearby easy parking facilities - Internet can be arranged.
Not included in winter: - Daily heating fee (10 € par day per apartment) - Additional wood for fireplace (10 € per large basket). Services upon demand: - Cleaning service (8€ par hour) - Washing and ironing - A kitchen equipped with Tuscan specialities upon arrival. Animals not admitted. Smoking not allowed inside apartments.
All accommodation
4

2 - 7

Apartment 1: RAFFAELLO – 4 PERSONS Surface: 85 M2. Located on the ground floor, it has a terrace with a wooden teak deck to dine outside facing the fields.The living room has large...

4

2 - 7

Apartment 2: MICHELANGELO – 4 PERSONS Surface: 82 M2. Located on the ground floor it has an independent entrance through a small patio, a kitchen and dining area inside a reconverted...

4

2 - 7

Apartment 3: GALILEO - 4 PERSONS Surface: 102 M2. Located on the ground floor it has an independent entrance on the secondary patio but is also connected with the central courtyard through a...

4

-

Apartment 4 - Leonardo Surface: 100 M2. Located on the first floor this apartment has exceptional quality of spaces and furniture, with a double height living area which benefits from a view...

apartment

4 people
- Min. stay

2

-

Apartment 5: Leonardo - 6 Persons Surface: 90 m2. Tiziano Located on the first floor this apartment is ideal for a couple or for guests that are staying with their friends but wish to keep...

suite

2 people
- Min. stay

6

2 - 7

Apartment 4+5 Leonardo + Tiziano - 6 Persons Surface: 140 m2. TIZIANO: located on the first floor this apartment is ideal for a couple or for guests that are staying with their friends but...

apartment

6 people
2 - 7 Min. stay

2

2 - 7

Apartment 6 - Giotto Surface: 35 m2. The entrance is located on the backside of the villa, through a small staircase. The apartment is ideal for a single person or a couple who wish for a...

apartment

2 people
2 - 7 Min. stay
Photo gallery
Information