Tours: Appartamenti in Agriturismo near Siena in Toscana, San Gimignano
---
Tours
Picture gallery
Brunello grand tour Brunello, presently considered the best wine in the world, has its ancestral roots in the passion of the inhabitants of Montalcino and in the ancient winemaking tradition, handed down from one generation to the next. The town of Montalcino, sanctuary of this wine produced from Sangiovese grapes, stands on a charming hill that will let you relish its natural wholesomeness. The town, its century-old fortress, and the best wineries reviewed on specialised magazines are the main destination of our outing. Great skill in the cellar, which includes a long maturation in casks made from valuable wood, make Brunello, holder of the title of "Italian ambassador in the world of our winemaking reality", the most highly regarded wine in the world. You will have the opportunity to taste prestigious wines in the best wineries on the territory and to discover Montalcino, the beautiful Abbey of St. Antimo and the wonderful surrounding area.
The tour includes: • Shuttle service from your accommodation and back • Private minivan with all comforts for a maximum of 8 people • Expert bilingual guide (Italian-English) • Wine tasting at two renowned Montalcino wineries reviewed on the best specialised magazines, such as Wine Spectator and Decanter • Guided tour of Montalcino and its stronghold and short break to shop for typical products and local crafts • Visit to the Abbey of St. Antimo, renowned for its celebrated Gregorian Chants • Tasting of bruschette and typical Tuscan cold cuts and cheese • Possibility of buying wine at favourable prices at the wineries visited during the tour (shipped almost everywhere in the world) • Photos of your tour.
Horseback riding Travel on horseback leads to a deep understanding of our land and people. Don't miss the opportunity to be a horseman for a day! Enjoy the open air of the Tuscan countryside. No experience is necessary. Riding on horseback is ideal for trips across the Tuscan woods and hills. Let our guide take you on a search for beautiful little churches, deserted monasteries and castle ruins. The trails are often the same ones ancient pilgrims covered in the Middle Ages along Via Francigena.
The activity includes: • Round trip transportation from your accommodation • Private air conditioned Minivan for max. 8 people • Horse and professional guide • Helmet • Tours across historical and natural areas • Barbecue lunch for the 8 hour trip.
Check availability : Select accommodation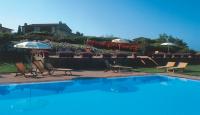 Apartments in Farmhouse
Toscana - Siena - San Gimignano
Select dates

Select accommodation

Enter personal data

Enter payment data
1

2

3


An error has occurred!
Book here San Gimignano 2345
ATTENTION: within 5 seconds, you will be forwarded to a secure server to complete the booking procedure
Click here to immediately proceed with the booking

5
All accommodation
Apartment 1, 3+2 paxApartment in the main building of the property. Ground floor comprising living-dining room with satellite TV and double sofa bed, fully equipped kitchenette (fridge, freezer,...

Apartment 2, 2+2 paxApartment in the main building of the property. Ground floor comprising living-dining room with satellite TV and double sofa bed, fully equipped kitchenette (fridge, freezer,...

Apartment 3, 4+3 paxApartment in the main building of the property.. Ground floor comprising: living-dining room with satellite TV and double sofa bed. Going up two steps there is the fully...

Apartment 4, 2+2 paxApartment in the main farm building. Mezzanine. With Living room – dining area with satellite TV and double sofa bed, kitchen fully furnished (small electric oven,...

Apartment 5, 2+3 paxApartment in the main farm building. First floor. With Living room - dining area with double sofa bed and satellite TV, kitchen fully furnished (small electric oven, fridge,...

Apartment 6, 4+3 paxApartment in the main farm building. First floor. With Living room - dining area with double sofa bed and satellite TV, kitchen fully furnished (small electric oven, fridge,...

apartment

7 people
2 - Min. stay

Apartment 7, 2+2 paxApartment in the main farm building. First floor. With Living room - dining area with double sofa bed and satellite TV and access to small terrace furnished with table and...

Apartment 8, 4+3 paxApartment in the main farm building. First floor. With Living room - dining area with double sofa bed and satellite TV, kitchen fully furnished (small electric oven, fridge,...

Villa 9, 10+2 paxIndipendent Villa on two floors. Ground floor + First floor. On the ground floor with: Entrance hall, bathroom with shower, kitchen fully furnished (oven, dishwasher, fridge,...

villa

12 people
2 - Min. stay

Villetta 10, 3+3 paxIndipendent Villetta. Ground floor. With Living room - dining area with double sofa bed and satellite TV, 1 step down to reach kitchen fully furnished (microwave oven,...

villa

6 people
2 - Min. stay

Villa 11, 8 paxIndependent villa. Ground floor comprising: living-dining room with access to the outside, sofa, satellite TV, fully equipped kitchen, (electric oven, fridge, freezer, etc.,), 2...

villa

8 people
2 - Min. stay

Villetta 12, 3+2 paxIndipendent Villetta. Ground floor. With Living room - dining area with double sofa bed and satellite TV, kitchen fully furnished (microwave oven, fridge, freezer etc...)...

villa

5 people
2 - Min. stay
Photo gallery
Information