Weddings: Appartamenti in Agriturismo near Siena in Toscana, Murlo
---
Weddings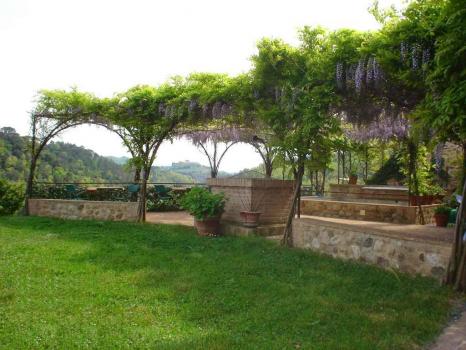 Picture gallery >>
Our farmhouse, with 10 years of experience in this field has specialized in a friendly and professional way welcoming families gathering for weddings, birthdays and special occasions. The large size of the dining room (up to 130 people seated) and the versatile structure of the rooms (35 to 65 beds) combine with the need to accommodate families and friends coming from far away in a friendly way while providing privacy for everyone too.
The various locations (the bar near the swimming pool, restaurant, terraces, tasting rooms and conference room) are perfect to set the various stages of a wedding party (reception, dinner, cake cutting, dancing after dinner).
The kitchen provides the characteristics of purity and simplicity of food, but also attractive presentation of dishes and the excellent buffet. We offer a free wedding planner, providing personalized advices and useful addresses for both the party (decorations, music, venue for the ceremony etc) and entertainment for guests (wine tastings, tours, cooking classes etc).
Photo gallery
Information