Restaurant: Agriturismo near Ravenna in Emilia Romagna, Faenza
---
Restaurant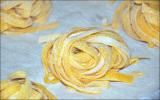 Picture gallery
From some renovated old stables we have been able to create a comfortable and inviting restaurant, warm during the winter, but cool and airy during the summer.
Taste the typical dishes from the Emiglia Romagna region. The pasta is homemade and includes the following types: cappelletti (hat shaped pasta), tortelli (like ravioli shaped pasta), gnocchi, taglioni, tagliatelle, crespelle (pancakes), lasagne etc, for second course, we offer grilled meat, oven roasted, fillets, "tagliate" (grilled steak cut in to thinner slices) etc, all of which can be tasted with out fantastic wines.
Our restaurant is open Fridays and Saturdays for dinner and Sundays for both lunch and dinner. Guests who eat at the restaurant will also receive a 10% discount on the food.
All accommodation
6

3 - 7

Apartment of 50 sqm "open space" with 2 double beds, TV, kitchenette, air conditioning, bathroom and separate entrance and a table and chairs.

one room apartment

6 people
3 - 7 Min. stay

bedroom in the loft bedroom single bed, ground floor living room with kitchenette and single sofa bed, bathroom, TV, air conditioning, private entrance. Private porch with table and chairs.

2 double bedrooms, one in mezzanine with a single bed and a double bed, living room with kitchenette, TV, air conditioning, private entrance. Private porch with table and chairs.

Large living room with kitchen, bedroom (single bed), single bedroom, bathroom, tv, air conditioning; Available also 1 sofa bed in the living room

With a double and a single, tv, bathroom, kitchenette (induction plate) and air conditioning on the first floor.

one room apartment

3 people
3 - 7 Min. stay

With double bed, TV, bathroom, air conditioning and minibar

With double bed, TV, bathroom, air conditioning and minibar

With double bed, TV, bathroom, air conditioning and minibar

With double bed, TV, bathroom, air conditioning and minibar

double bed, walk-in closet, private bathroom with Maxi Jacuzzi, flat TV, air conditioning, hair dryer, Toiletries, Safety Deposit Box, Mini bar, Kettle;

double bed, private bathroom with shower, flat TV, air conditioning, courtesy set, hairdryer, minibar;

double bed, private bathroom with shower, flat TV, air conditioning, courtesy set, hairdryer, minibar;

bed (a sofa bed to a queen), private bathroom with shower, flat TV, air conditioning, courtesy set, hairdryer, minibar;

Villa made whole portico with barbecue, large living room with fireplace, kitchen. No re-orders are made daily and the change of linen

villa

8 people
2 - 7 Min. stay
Photo gallery
Information