The Lake: Agriturismo near Siena in Toscana, Rapolano Terme
---
The Lake
Picture gallery
Lake is 11,000 square meters, located about 60 meters from the farm houses, and with a maximum depth of 7 meters. The lake is natural but in the '50s has been raised to allow a greater capacity for irrigation.
The lake is only available to guests of the farm and in a few days of the week is open for the game-fishing.
FISH IN THE LAKE:
Carp:The carp is a fish that moves in relation to climate and temperature change and in relation to food that can be found in that timeframe. However, the carp is fishable during the entire year, although of course, the probability of winter catches are minimal, but almost every record. There are various methods of fishing: bottom fishing, fishing with the float and carpfishing, the latter is used in our lake.
Pike: The pike is a sought-after prey also for professional fishermen. Is threatened with artificial lures such as cucchiaino with strong lines of at least 25/30 and often with steel at the end that can save the monofilament from the dangerous teeth of the Pike.
Real Perch: It is a gregarious fish that forms small groups and only an adult can take a lonely life. In our waters catches around 1 kg of weight are an event, the average is below 0.5 kg. Living in herds it happens to capture more than one in the same fishing area.
Tench: It is common in all the European slow-progress freshwater, the tench prefers funds that are covered by vegetation. The tench has a squat body covered with small scales, with thick fleshy fins. The scales are greenish on the back, clearer and more yellowish in the ventral area. The fins are brown-green and the eyes are red. Usually the tench reaches 30-50 cm long and 4 kg in weight.
Check availability : Select accommodation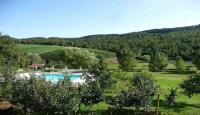 Farmhouse
Toscana - Siena - Rapolano Terme
Select dates

Select accommodation

Enter your personal data

Enter payment data
1

2

3


An error has occurred!
Book here Rapolano Terme 913
ATTENTION: within 5 seconds, you will be forwarded to a secure server to complete the booking procedure
Click here to immediately proceed with the booking

5
All accommodation
Apartments of about 55/60 mq with own entrance, outside private pergola equipped with outdoor furniture, Sitting/dining room with kitchen, sofa and fireplace, ONE bedroom, ONE bathroom with shower.

apartment

3 people
3 - 7 Min. stay

Apartments of about 80 mq with own entrance and outside private pergola equipped with outdoor furniture, living/dining room, kitchen, fireplace and sofa, TWO bedrooms, TWO bathrooms with shower.

apartment

5 people
3 - 7 Min. stay

Biancaneve 85mq 4+2 Detached house on the ground floor, close by the wood, the swimming pool and the lake. Sitting/living room with kitchenette, fireplace and mezzanine with two single sofa...

villa

5 people
3 - 7 Min. stay
Photo gallery