Wellness Center Spa: Appartamenti in Agriturismo near Firenze in Toscana, Montaione
---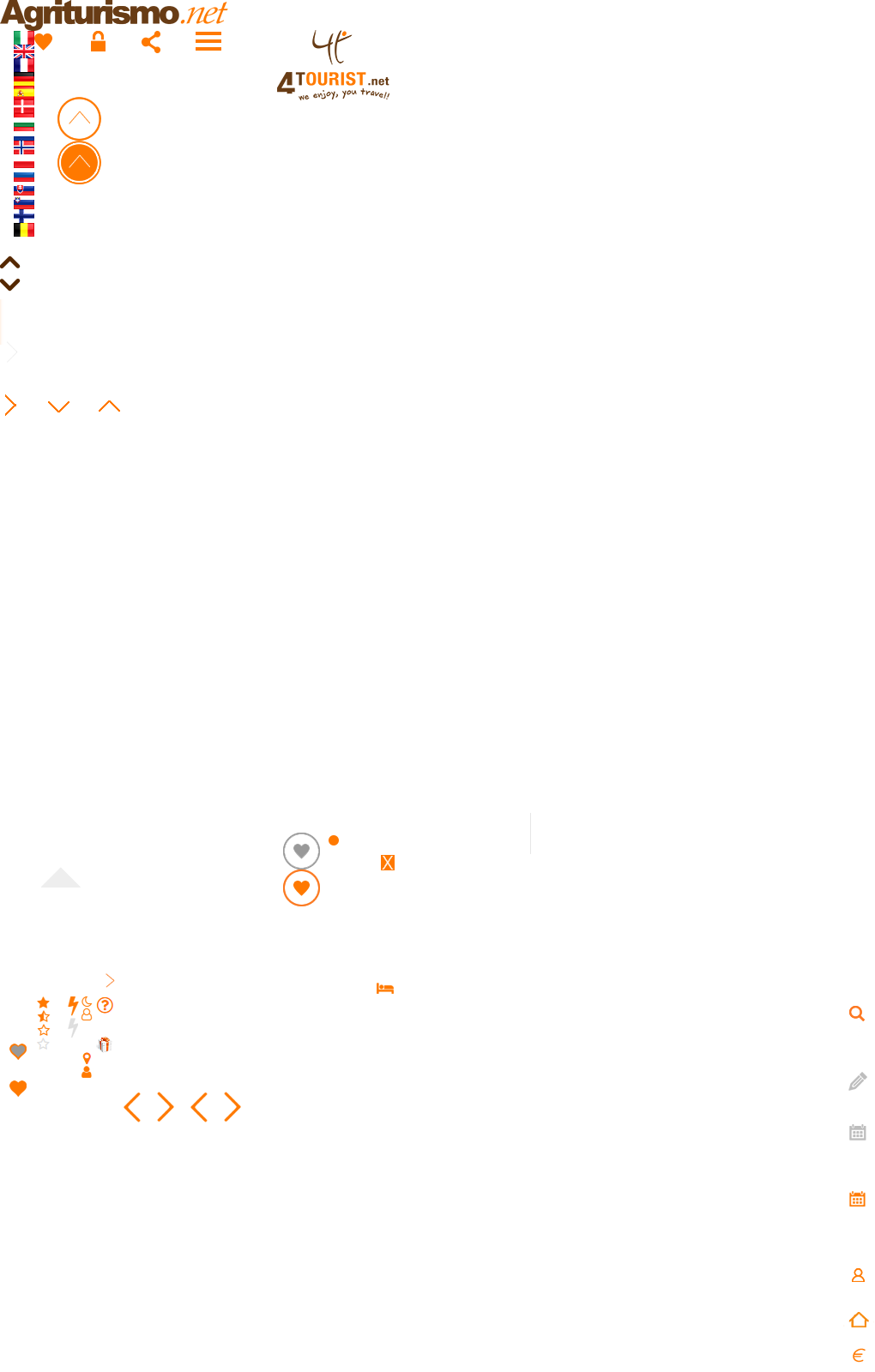 484
-
Apartments in Farmhouse
8.3
Relax and wellness in the very heart of the Tuscan countryside means to break off with the daily routine and to give up to the delightful sensations of pure wellness for the body and for the mind. This is our new wellness centre spa, a suggestive place of about 200 square metres that with its beautiful and privileged position in the estate offers a breathtaking view. The wellness zone of our centre provided with sauna, Turkish bath, Jacuzzi, dump bath with aromas will invite you to relax at the and of a day already reach of emotions and discoveries. For those who want to regenerate in an absolute way we suggest a real course for the self care: you can choose among the several offers your personal and specific programme that better suits your needs and then let you cuddle into our arms. Community whirpool: situated on a natural terrace you can find our whirlpool zone. From this unique position you and 4 or 5 friends can enjoy a breathtaking landscape easily immersed in our ergonomic whirlpool. The different massage systems that you can use in the tub will relax and refresh you. Enjoying the sunset framed from the green cypress you can revitalize and invigorate your body and regain your strength.
Biosauna: the body is surrounded by mild heat and fine steam enhanced with the natural essences of aromatic, gentle herbs. Bio Sauna's finely tuned atmosphere nourishes your hair and skin. Further, the scent of herbs cleanses and stimulates your respiratory system while creating an invigorating climate which will transform your Bio Sauna ritual into a unique experience. Just sit down, breath deeply and enjoy yourself. Foot whirlpool and footbath: foot whirlpool with foot massage is relaxing and regenerating for your feet, legs and the whole body. The beneficial bath salts in association with water as a carrier of different messengers stimulates the organism to positive and regulating reactions. The application are good for your blood stream and the nervous system. The integrated sparkling massage activates the circulation and recreates tired muscles. You will experience revitalising and tonic after-effects. The foot whirlpools are pleasant and convenient interludes between the single bathing sequences. Relax zone: after trying the heated ergonomic waterbeds you can not resist at the total relaxation created in this pleasant ambience. The various spa treatments with fragrances, oils, essences, colour stimulation, relaxing music and other wellness elements produce a positive influence on body and spirit. Messenger substances and "hormones of happiness" boost your mood. Metabolic functions of liver and kidneys, bowel action and oxygen uptake in the blood is enhanced. Many organs benefit from increased blood supply that boosts vitality, performance and individual well-being. Periods of rest further enhance these positive effects. Discover the benefits of slowness at the VITAL-BAR: in this unique place you can rest and rehydratate with infusions, tisanes and energetic drinks.
Treatments and Massage: Our Treatment: - Peeling - Mud - Hay bath - Wine bath and treatments - Beauty farm - Pedicure - Manicure - Hair removal - Lifting anti-age - Facial beauty treatments Our Massage: - Massage with aromatic oil - Antistress massage - Linf-draining vodder - Sports massage - Anti cellulitis - Ayurveda massage - Hot stone massage - Foot massage - Back massage - Head and face massage
Steambath - Turkish bath: in our steam bath we vaporize essential oils from medicinal plants. Through the skin and respiratory tracts these essences reach the organism and produce a pleasant effect. The perfect combination of humidity and warmth helps reduce excessive muscular tension. Physical relaxation in turn produces a calming effect on the nervous system. The humid warmth penetrates deep into the tissue, increases blood circulation in all organs and induces agreeable processes. The steam bath is particularly soothing for: - rheumatism - lumbago - metabolic disorders - circulatory disturbances - gynaecological problems - common cold - catarrh - bronchitis - hay fever - impurities of the skin Ice grotto: the icy rubdown ensures increased blood circulation to the skin and causes an invigorating cooling after sauna and bath treatments. Gently rub yourself from head to toe and experience the invigorating cooling effect. In that way, your overall circulation is tuned and strengthened. Multi-beauty-system: with our Multi-beauty-System you can appreciate the various treatments for the beauty and the wellness, as mud, seaweed, chalk, hay bath, and revitalising wine treatments. Gently kept afloat by a thin membrane you are suspended in an almost weightless condition, floating on pleasant warm water without being actually immersed. Pure and undiluted products are then applied between the body and the membrane. The membrane adjusts to the body contour due to the water pressure. The individual products can then be easily absorbed by the skin. The nearly weightless suspension allows perfect relaxation for the muscular and motor system. A carefully maintained temperature throughout the treatment further aids the process of relaxation. This system allows a targeted application of your very personal treatment program for optimum well being and stress reduction. You will feel beautiful, healthy and fit. Welcome to new life!