Info and Description: near Lucca in Toscana, Gallicano
---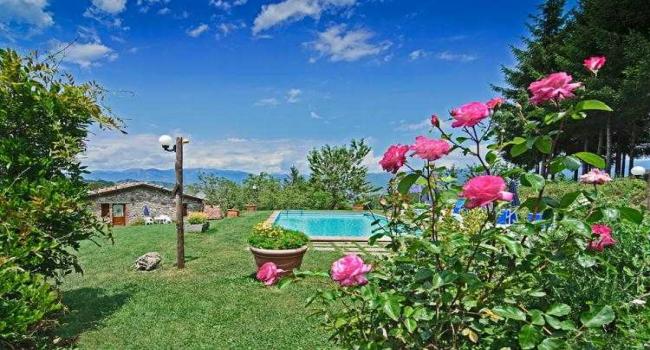 Picture gallery
Hotel
classification
Typical products

Wedding planning
Info and Description
Location: Agriturismo "3 spighe".
If you arrive here, you can veify the special view in front of you: the Serchio valley with the Appennines and the Apuan Apls around.
On the one hand the Pania della Croce and the Pania Secca give you a special frame.
They dominate the little village of Vergemoli and they give you wonderul sunsets.
On the other...
hand Barga, dominated by the Appennines,and the snow creates an unreal outline.
The hill, where the farmhouse is situated was the oldest original position of Verni.
A big landslide or an earthquake destroyed it more than 200 years ago.
Position: Gallicano 1681 is situated 500 mt above sea-level; on the top of the "Piazza hill", on the main road to Trassilico but it's plunged in the fields and chestnuts trees, about 600 mt ar from the village of Verni.
About 5 km far from Gallicano (10 minutes) by car where you can find all services and shops that you need.
The position of the farmhouse is strategic, because it's the half-way between Lucca (1 hour by car) and the high side of Garfagnana.
Garfagnana is a little paradise, that you have to discovery, if you love nature, relax and adventure.
Garfagnana: Garfagnana's area has got a lot of woods, where you can walk to discovery the Apuan Apls with their summits: Pania della Croce, M.
Forato, M.
Matanna, M.
Sumbra, and the most famous tops of Appennines.
You can wander through medieval villages and you can see them like in an old film.
All is the same as in the past, where industry and commerce can't survive.
What to visit: About 20 minutes far from the agriturismo you can visit the legendary "Wild cave", where fan of speleology or normal tourists can adventur in the heart of the mountain, to admire everything what nature can create.
In the summer time, guests can use vegetables from our garden, in october we pick chestnuts, guests can come with us to take part in the preparation of the "metato" (place where we put chestnuts to dry and to make flour) and more-over they can taste our typical products or dishes.
Accommodation: the farmhouse has got 3 apartments to get back from the old stables that my grandparents used in the past.
Apartments are furnished with a very simple style, similar to the traditional houses in the past.
Here you can try an old life style in the modern time, without tecnologies.
The have equipped kitchen, bathroom with the shower and bedrooms.
The apartments are indipendent and all of them have private services and heating.
Check availability : Select accommodation
Select dates

Select accommodation

Enter personal data

Enter payment data
1

2

3


An error has occurred!
Book here Gallicano 1681
ATTENTION: within 5 seconds, you will be forwarded to a secure server to complete the booking procedure
Click here to immediately proceed with the booking

5
All accommodation
The apartment Tilde is situated at the first floor of the big stable.You find: one bedroom with double-bed (you can put one singol-bed in the kitchen or in the bedroom). It's very...

The apartment Aldo for 6 people is situated at the ground-floor of the big stable.You find: two bedrooms with double-bed (you can put one singol-bed in the bedroom), one bedroom with tower-bed,...

apartment

7 people
1 - 7 Min. stay

Apartment Orlando for 4 people is situated alone in front of the other apartments ear the swimming pool. You find: one bedroom with double-bed (you can put one singol-bed), bathroom and...

apartment

5 people
1 - 7 Min. stay

Apartment - 43 sqm (2+1 Beds) Double bed, cot / bed, bathroom, kitchen, TV

Apartment - 35 sqm (2 + 1 beds) Double bed, cot / bed, bathroom, kitchen, TV
Photo gallery
Information
Property amenities
General services:

Owner present

Swimming Pool

Parking

Children's play area

Outdoor lighting

Barbecue

Reception

Final cleaning

Bikes available

Catering Services:

Restaurant

Home-style cooking

Sports Services:

Hiking

Table tennis

Five-a-side football pitch

Other services:

Group accomodation

Ceremonies and receptions

Outdoor services:

Bike rental

Bar - Cafe

Restaurant-Pizzeria

Tennis

Fishing

Bus - Tram

Train station

Lake

Hospital

Chemist

Town centre

Supermarket

Shopping mall

Clothes shops

Food

Mountain
Nearby services and

places
1 Km. Town centre

6 Km. Clothes shops

6 Km. Tennis

6 Km. Shopping mall

6 Km. Supermarket

6 Km. Bus - Tram

6 Km. Food
Terms and Conditions
Regulations
Arrival time: from 15:00 - to 19:00
Departure time: The accommodation must be left by 10:00
In case of arrival out of the estimated time of arrival we kindly ask you to let know as soon as possible.
Down payment
The booking requires a deposit of 30%
Payment method accepted: Bank Transfer - Credit card
Credit cards accepted: