Activities in the surroundings: Bed and Breakfast near Asti in Piemonte, Vinchio
---
Activities in the surroundings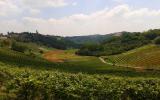 Picture gallery
Sports: biking lovers can borrow mountain bikes to discover the Valsarmassa reserve riding in the hills around Vinchio village. Nearby, you will find a swimming-pool during summertime, the golf course, the motor racing circuit for go-karts and the horse-riding in Nizza Monferrato.
Alba (the land of the white Truffle), Acqui Terme and other wonderful villages are some of the several towns you can visit during your holidays at this Piedmont bed & breakfast (about 22-30 km).
What's up in Piedmont - Vinchio d'Asti: in the first week-end of May, the Sagra dell'Asparago Saraceno (Feast of the Saracen Asparagus) will take place in Vinchio. You can also go hiking in the reserve near the B&B, for those people who like destinations off the beaten track (without the obsession of time, of the traffic, of the smog, etc.) and to plunge in the countryside.
All accommodation
The Chamber of Barber a spacious room with double bed or two single beds on request. Consisting of two bedside tables, wardrobe and desk. Private bathroom. Autonomous heating. Complete with sheets and towels for the bathroom products

master bedroom consists of: 1 double, 1 single bed, private bathroom, 2 bedside tables, desk, mirror, wardrobe, kettle for tea. independent heating (for internal temperature of the room and hot water)

triple room

3 people
2 - 7 Min. stay

The 'Grandma's bedroom' has
a double sleigh bed with private bath
antique and restored furniture
chest of drawers with pier-mirror
wardrobe with mirror in the middle
electric...
Photo gallery