Services: Appartamento near Terni in Umbria, Parrano
---
Services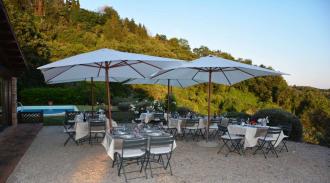 Picture gallery
he blue pool ideal refreshment after a day between villages and cities of art or just a quiet space to relax and bask in the sun.
The restaurant, for the guests, it is warm and cozy in the winter but when summer begins and the terrace of the valley comes alive with tables elegantly apparecchiati becomes the true joy of guests. Dinner by candlelight, the illuminated pool, good food and good wine, good music, the magic atmosphere and the rare frame, leaving everyone with the memory of a very special evening. Is rarely forgotten!
Walking through the park, stop on a green bench, reading a book near the fountain, notice the color of the light changes from hour to hour, offering sensations every time, the spots of colorful flowers, roses antique-toned yellow and red, olive trees, oaks... and then... it is difficult to start from the farmhouse!
All accommodation
The large fireplace, lace, ceiling beams, stone walls, a private gazebo covered with fragrant jasmine. And 'the ideal apartment for a romantic stay.

apartment

2 people
3 - 7 Min. stay

A private patio that overlooks the colorful garden, the antique furniture, the big white bed to relax and feel at home.

The large terrace overlooking the valley to enjoy a glass of white wine ice cream and watch the cangiare color of a sunset amongst the green Umbrian hills.

The books are the masters in this house-toned blue. They exchange, you can read in English, German, Dutch, or simply you can relax on the terrace invites you to spend the warm summer evenings in the company of stars.

apartment

6 people
3 - 7 Min. stay
Information